A hotel booking system is one of the main components of a site that provides travellers hotel booking services.
Using the online hotel reservation system, they can check a particular hotel's availability and plan their trip accordingly.
On the other hand, it allows hotel owners to manage their workflows nicely and provide top-level services to the guests.
It helps both parties establish a genuine customer and owner relationship right from the time of making a reservation at the hotel using the booking system.
If you run a hotel booking site or planning to start one, and looking for a WordPress hotel booking plugin, then in this post, we'll look at the 10 best hotel booking plugins for WordPress available for free and on premium basis.
Using these booking plugins, you'd be able to build the ultimate hotel booking system you're thinking to create.
Without any delay, let's check them out one by one.
(1) Date and Time Picker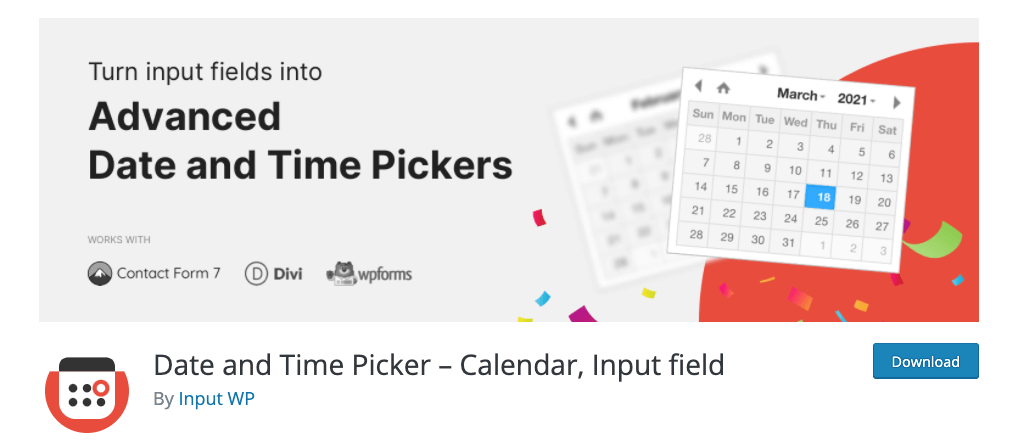 If you're using Contact Form 7, WPForms, Divi Contact Form Module and other contact form builder as your hotel booking form, then with the Date and Time Picker WordPress plugin, you can easily create a hotel booking system.
You can use this plugin to display a date calendar and time picker on the form that customers can use to pick their desired date and time to make a reservation.
It allows you to do that by inserting an input field on the form and then convert it into a date and time picker using the CSS Selector option.

Moreover, if you use the premium version of Date and Time Picker, you can export the data of your hotel booking system to several 3rd party booking management system using the .ics file.
For example, Google Calendar, Outlook, Airbnb and Booking.com.
If you go with the free version of the Date and Time Picker to create a hotel or restaurant reservation system, then the date calendar can disable past dates, specific dates and weekdays.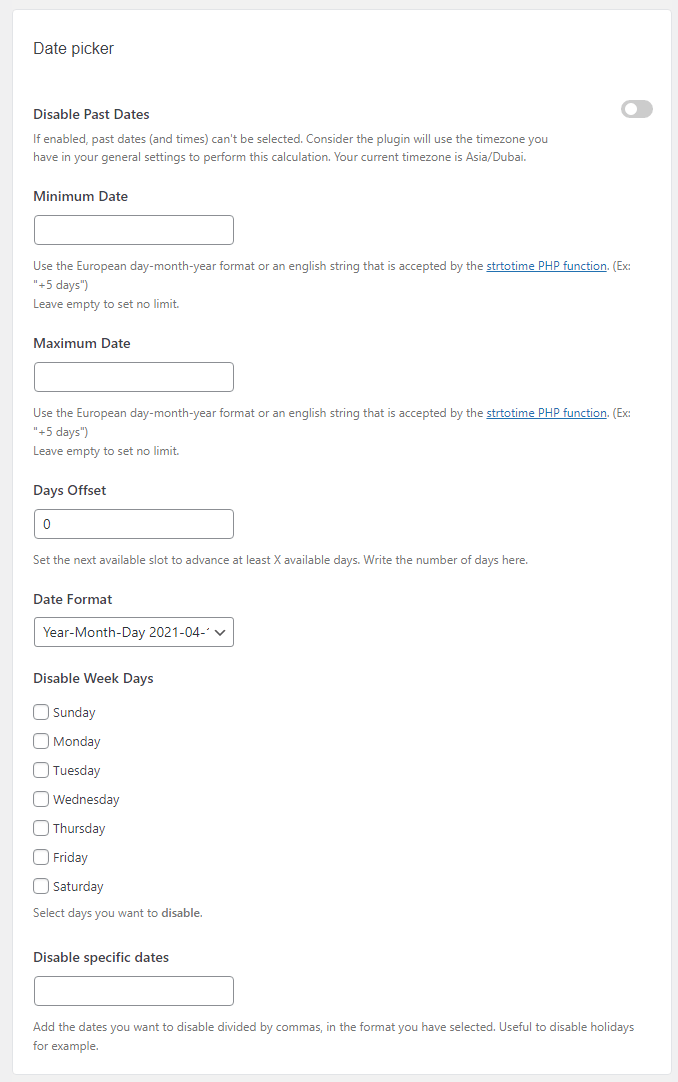 You can have a time range from day start to day end. And even define specific time for different weekdays.
With the premium, you can have a date range for check-ins and check-outs. Make a date and time picker more stylish, plus easily integrate it with different form builders like Gravity Forms.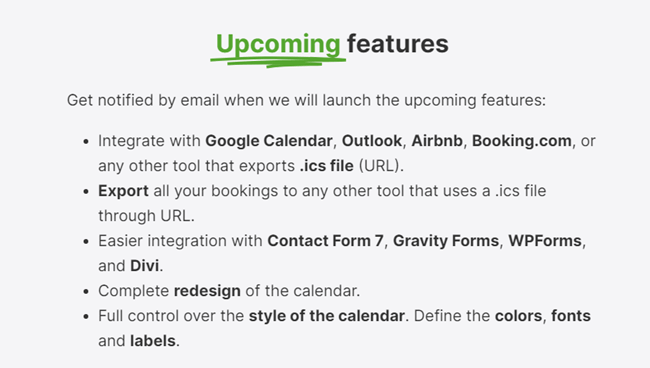 (2) Booking Calendar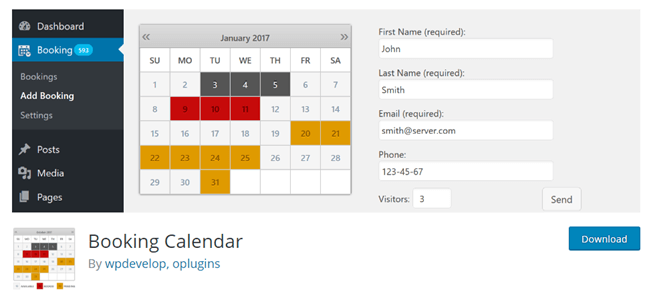 Booking Calendar is a simple to use WordPress hotel booking plugin with advanced options. It allows you to add a calendar to the site that displays customers what dates are available to book, already booked, and pending approval.
It has an inbuilt form editor, so you don't have to install any other contact form builder. Though, using this hotel booking WordPress plugin, you'd only be able to create a single form with First Name, Last Name, Email, Phone Number and a Custom Message field.
Once the customer books a hotel by selecting multiple or single dates, it will appear in the Booking Calendar's backend as pending.
Here, you can approve or delete it. Once you do either, the customer will receive the email confirming whether his accommodation has been booked or not.
This how Booking Calendar works,
Using the Booking Calendar WordPress reservation plugin, you can view bookings in the backend on a calendar and list view. Add bookings manually, do multiple actions on a single booking like — Approve, set to pending, reject, restore, delete, add a reason for cancellation and a couple more useful options on the hotel booking system.
(3) WP Hotel Booking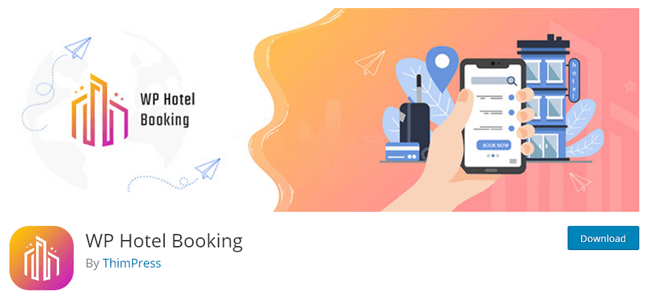 With WP Hotel Booking, you can create a comprehensive hotel booking system or a hotel room booking system.
It comes with a custom post type support for room capacity that enables you to create pages assigned to those CPTs.
The rooms option of the WP Hotel Booking plugin makes it possible to create different rooms pages and add essential details.
Like Quantity, the maximum number of adults, how many children are allowed, what additional package they include, and prices on different weekdays.
Using the same hotel booking plugin, you can add room galleries and create pricing plans for your hotel booking system.
In addition to these features, you can find other useful features with this plugin, like custom hotel pages (Search, Checkout, Cart and more), default currency type, and more.
(4) Hotel Booking Lite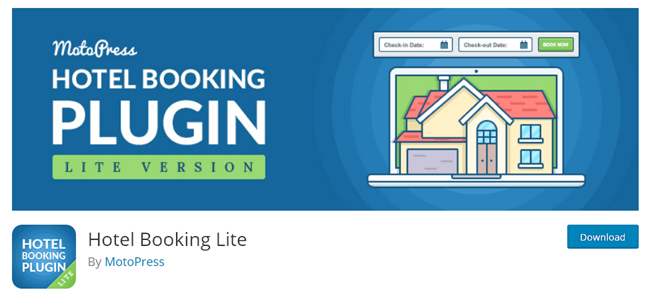 The Hotel Booking Lite plugin is somewhat similar to the WP Hotel Booking plugin.
You can create accommodation types, then add more details about them like Capacity, Bed Type, Available Services, and more.
Define custom post type for your hotel accommodation and what amenities it provides. You can also add room images in the gallery and as featured images.
Apart from these options, you can create different Seasons for your hotel booking system and set different rates for the accommodations based on season type.
So, you don't have to manually change accommodation prices repeatedly during different times of the year.
(5) Bookly — WordPress Online Booking and Scheduling Plugin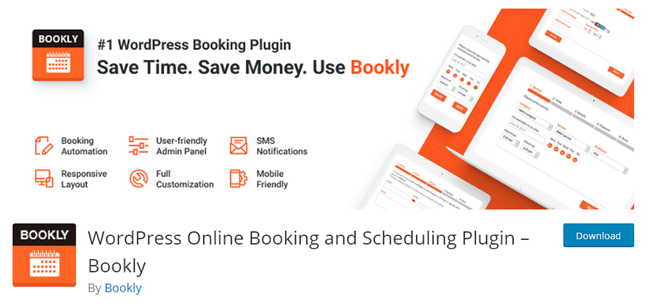 However, the Bookly WordPress scheduling plugin is most preferably used by businesses like beauty salons and restaurants; you can also try it to create a hotel booking system.
It comes with a couple of features that can help you create a hotel booking form.
Using this plugin, first, you need to create rooms or accommodations using the services option, then add a service category, and then define the room or hotel availability.
After hotel availability, set the time when a customer can book a particular room. That's it; your hotel booking site is ready to receive reservations.
The backend of the Bookly plugin is friendly, and you can easily have a look at the bookings you've got.
(6) Solidres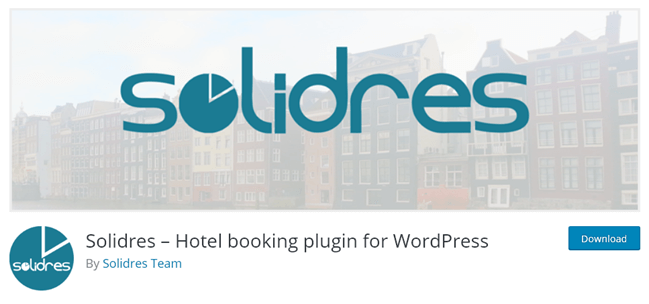 Solidres — Hotel booking plugin for WordPress is a new booking plugin available in the market with capabilities to turn your site into a complete hotel bookings site.
Using this plugin, you can add the portfolio of different hotels and show users the availability of rooms & suites in those hotels.
Look at the hotel booking form example in the below screenshot,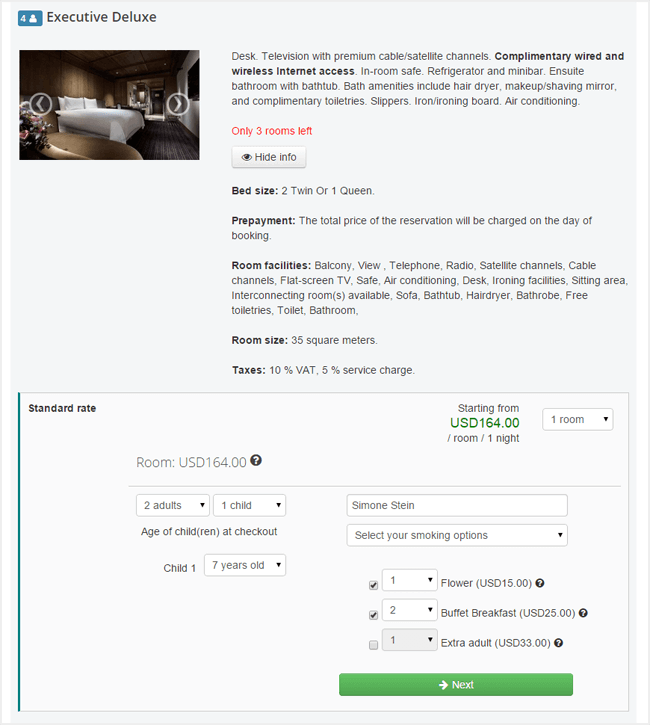 The plugin enables you to show ratings of the hotel, map, plus different social network icons.
Add different rooms with complete details and image galleries.
Once the user selects a particular room, it showcases them with different options like the number of guests (adults and child both) and other options as well.
The Guests Info & Payment step, while booking a room, asks the user to fill up all the required details and then finish the booking on the confirmation step.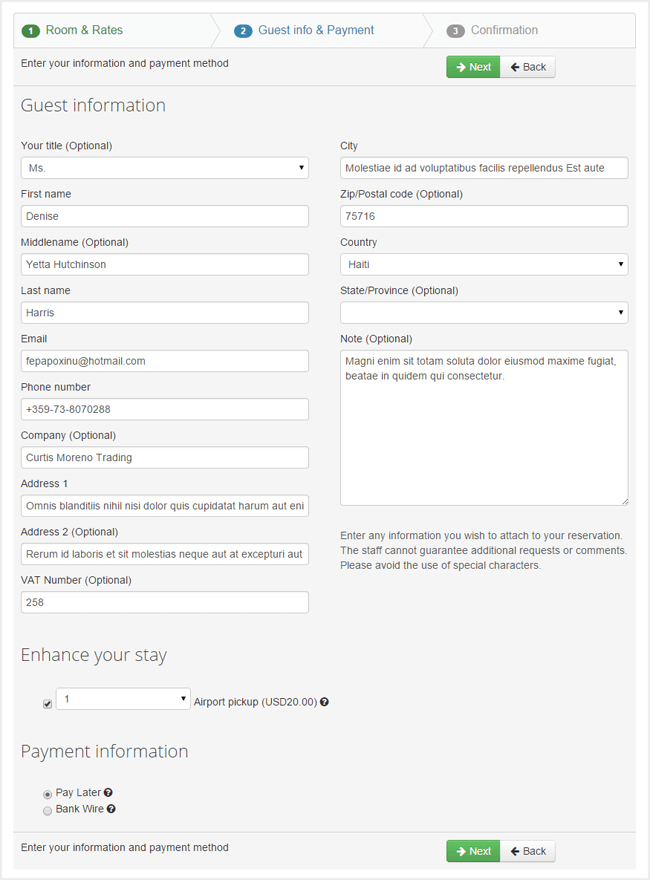 In the backend, you've got a couple more options, just like the frontend. However, to create a hotel booking system, everything seems easy to use.
There's an Assets option to create Hotels and their rooms and category. Reservation menu to see all the bookings. Coupons & Extras menu to add a discount on a particular room.
There are many other helpful hotel booking options that come with this plugin that allows you to set Currency, Country, States, and more to the rooms.
(7) Booking calendar, Appointment Booking System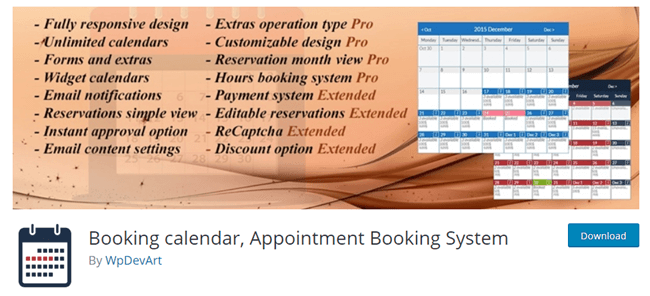 With this plugin, you can add multiple Hotel bookings forms with multiple reservation calendars.
Booking Calendar, Appointment Booking System plugin is just like the Booking Calendar, enabling you to add a calendar with dates highlighting their status — Available, Booked or Unavailable.
However, unlike Booking Calendar, it has multiple options and allows you to add multiple calendars with various forms.
The form also allows you to provide the user with more fields to accept several visitors and define how many adults & children are acceptable.
Moreover, it's already integrated with the payment system. Users can pay using PayPal for hotel booking, and you don't have to install another 3rd party payment gateway plugin.
Same as the Booking Calendar, you can view bookings in the reservation window with the option to Approve, Reject, Delete and Edit a particular booking.
(8) WP Travel Engine — WordPress Travel Booking Plugin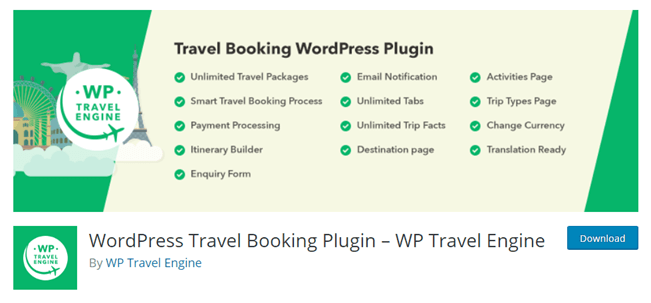 Not a particular hotel booking plugin for WordPress, but if you maintain a travel booking site along with a hotel booking then, WP Travel Engine can be your perfect choice.
Using this free WordPress travel booking plugin, you can easily create travel and tour packages for tour operators and travel agencies.
It includes a simple user interface that makes it friendly to create travel and tour packages with options like PayPal payment gateway integration, trip duration, tour age requirement.
Different prices for adults, children. Infants and group travelers.
Add itineraries, trip info, maps, galleries, FAQs and much more to make a perfect travel booking site with a hotel booking plugin like Date and Time Picker or Solidres.
(9) Easync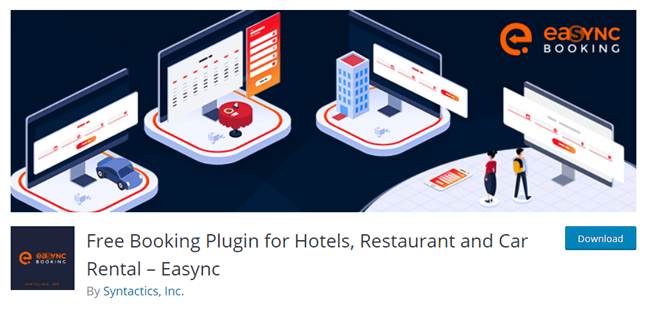 Easync is another new free WordPress booking plugin that allows you to create a hotel booking system.
It uses the shortcode method to add a hotel booking form on a page. And not just hotel booking, but it also provides the option to create a car rental and restaurant reservation systems as well.
When you install this plugin, you need to enable the hotel booking option and then add rooms to the site.
The plugin makes it possible to add a description of the room using the text editor.
Plus, you can also define additional information to the room such as Availability, Total Rooms, Price, Number of Guests, Featured image and more.
With these, you also get custom hotel website pages like Thank you, Privacy Policy, Email notification and T&C.
(10) CultBooking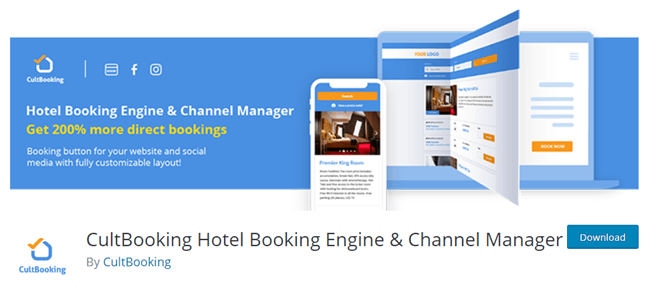 CultBooking is somewhat the same as Solidres.
Using this, a Hotel bookings website owner can create a comprehensive hotel booking system.
That looks good as well as highly functional in terms of booking reservations for hotels.
With Cultbooking, you can add a bar to the site that allows customers to do multiple hotel search and then select a particular hotel from the given list you've created before in the site's backend.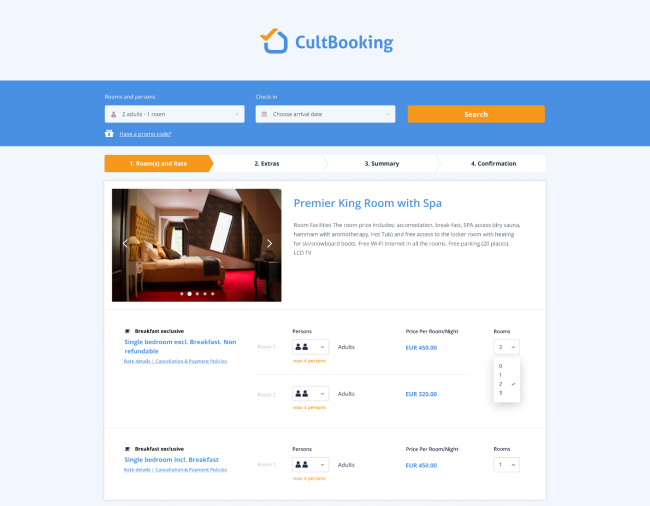 Moreover, you can use it to provide users with the option to select meal types and extra services during their stay.
The backend gives you more control over hotel status and room availability, as shown in the below image.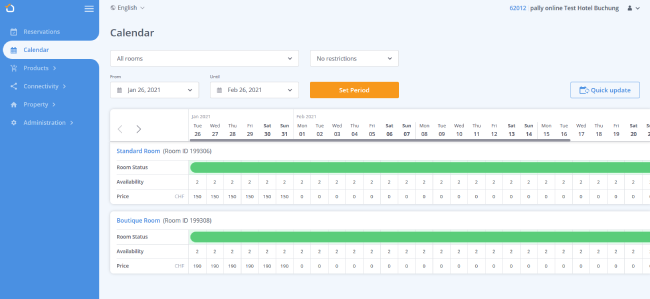 Plus, there's no need for you to install a 3rd party payment gateway as it comes with inbuilt support for PayPal, Visa, MasterCard, American Express, Klarna and more.
It's a complete solution to add different hotels to the site and manage them as a hotel channel manager.
— — —
How do you find this article? Was it helpful to assist you in selecting the perfect hotel booking system for your WordPress hotel booking site? Let us know in the comments.